Cristiano Ronaldo shows off his family, reveals how to properly relax during lockdown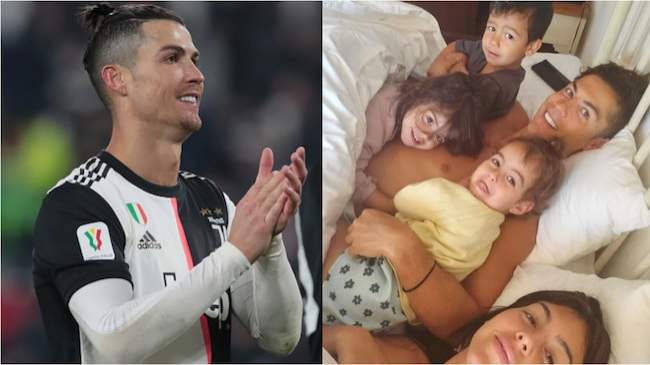 The Juventus striker continues to relax with his family at their £3500-a-week rented luxury apartment, as he posted a picture of himself in company of girlfriend Georgina and the children.
Ronaldo was also seen in a video post playing with one of his twin, Mateo, as they mimicked each other severally, laughing and chuckling together on bed.
"Like father like son," Ronaldo captioned the post on Instagram.
A separate photo of him and wife on bed with the children all around was posted by the star who continues to keep fit in their new abode.
The 35-year-old and his family reportedly moved to the new home due to its large space so he could drill himself.
It will also afford his partner Georgina Rodriguez and their children to keep up with their fitness exercises.
Ronaldo's decision to move out of his exotic home would have been informed by the lack of space to jog.
Although his house in Madeira affords him the luxury of sightseeing the Atlantic Ocean from his comfort zone, the forward however needed to keep his body in shape ahead of Serie A resumption.
This is coming barely 24 hours that Georgina posted a photo of the Juventus star wearing pyjamas. According to Sport, the pyjamas Ronaldo clad himself in is worth a staggering £2,600.
Ronaldo is spending their coronavirus lockdown in Madeira with his partner and their family though are keeping fans updated on social media.
In the recent picture posted on Instagram, Ronaldo sits in a chair grabbing a plate of food with three of his children attempting to get some with local media reporting the outfit he wore cost €3,000.
It was further suggested that the Givenchy shirt costs around €500 (£435) while the matching Dior pyjama set comes to a combined €2,040 (£1,775).
And Ronaldo finishes his relaxed-looking outfit off with a neat pair of €400 (£348) sandals.